Lightest Ergonomic School Backpack for Kids Designed by a father
Quick pre-order now to get Early Bird rewards with 30% OFF
After extensive research, We've noticed that in order to reduce back pain, the weight of backpacks should account for 5-7% of a kids' body weight. However, a light backpack is not enough as younger ages keep them active while their bones have not been completed, and books easily bump into the back when moving cause to spinal.
Hence, for 2 years of development, Tinipak was born with a mission to deliver the lightest ergonomics backpack and at the forefront of flexible design.
Tinipak is designed to fit all elementary kids with many purposes. They could integrate with accessories to organize stuff smart with 11 compartments including TiniFile, TiniCard, and Paker a collection of patches designed by Tinipak.
Ergonomic with Triple Air System
With the mesh panel and thick shoulder paddings, Tinipak keeps kids from shoulder pain and avoids back problems, provides comfort to
"fly" to school.
When books and folders are not needed, TiniFile can be easily removed to make the backpack become a large space for different uses such as sports, travel, etc.
Perfect fit, made for kids
This is the key criterion that Tinipak pursues. TiniBox deletes redundant details, refines smart features to reach an impressive weight of only 660 gram.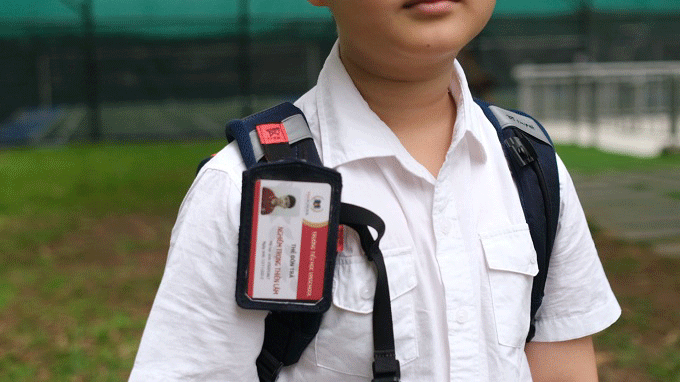 Fast operation with one hand
The convenient magnetic chest strap helps to keep the shoulder straps from slipping off kids' little shoulders, lets them free run and jump.
We choose materials to ensure the following criteria: lightest, durable and convenient for children to use. All Tinipak products use YKK zippers and pullers designed by Tinipak
Express kids' personalities with Paker
Pakers are a collection of patches designed by Tinipak. Pakers can be changed for different special occasions, making them superior to the fixed and boring stickers on other backpacks.
The Power of Organization
11 compartments to easily organize stuff. Help kids form intentional life from the good habit.
As a dad who is into packs, it has been hard to find a bag that satisfies my requirements for quality and build, yet fits my children's taste and stature. I am happy to report that Tinipak seems to have filled this niche with their TiniBox. It's a great little bag that should suite a variety of needs for the little academics in our lives, and do it with some style; I'm happy to recommend TiniBox as a good option
Over the years, with diligence and craftsmanship, Vietnam has been producing many products for leading brands in the world. However, Vietnam doesn't yet have a world-recognized brand, and we feel that we have a mission to make one.
​
To build a well-known brand, besides excellent manufacturing, it is necessary to develop industrial design. Currently, thousands of Vietnamese students in this major have graduated, but there is no place for them to develop their skills, and they end up working in different jobs. This is also a reason for us to promote this industry in our country.
This is our first project after a small-scale release in Vietnam. We hope that our product will be supported by the global community, as this can be great motivation for us to build a team, a company, and a quite new profession in Vietnam. Your support also helps us to focus on creating, designing, and manufacturing high-quality backpack brands and solving problems with smart, handy solutions.
We have spent over 2 years - such a long journey to be here. If Tinipak brings real value to you, please support us and share Tinipak with everyone.
I'm Hoang - a father of two children. When one of them started primary school, I was once confused about choosing a suitable backpack for him. Most of the backpacks that I saw before were too big, too heavy, and unfit for my kid's body. Their functions and designs were flashy and cumbersome and failed to meet my expectations for a school backpack. Since collecting and working with backpacks has been my passion for such a long time, I desired to design a capable backpack for my little son. This was the powerful motivator for me to make my dream come true. Originally I thought it would not take too long with my experience, but it took me 2 years to develop my first version, TiniBox. And thus, Tinipak was born.